The Peabody Memphis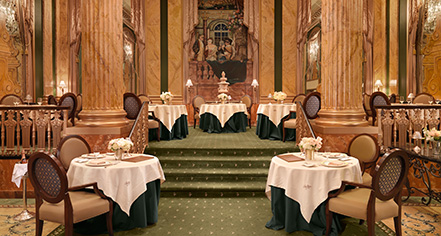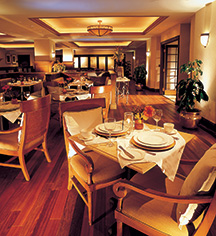 Dining
Look no further than The Peabody's own award-winning dining establishments for a reputably excellent culinary experience in Downtown Memphis. Restaurants such as Chez Philippe, Capriccio Grill, Peabody Deli and Desserts, and the Peabody Corner Bar all offer something different and vary in fine dining to casual fare. In-room dining is available 24 hours a day.
Chez Philippe is a fine dining experience that will satisfy the palate as well as the senses. As one of the most opulent restaurants in Memphis, it is the winner of numerous awards for its refined elegance, on-point service, and its delectable menu of classic French cuisine headed by Peabody Executive Chef Andreas Kaiser. With its upscale splendor, this is the only Forbes Four Star and AAA Four Diamond rated restaurant in the Mid-South. Pair the exquisite meal with a glass of wine and let the romance of the atmosphere do the rest.
Peabody Afternoon Tea
Experience elegant English-style afternoon tea at the Chez Philippe, the only place in Memphis besides somebody's house. The afternoon tea experience is complete with a three-course menu of tea sandwiches, assorted sweets, and scones from the Peabody Pastry Shop. Tea time is usually Wednesday - Saturday from 1:00 P.M. - 3:30 P.M.
The Capriccio Grill is a proud server of Italian favorites including an array of prime steaks, which have gained reputation as the finest steaks in the city, pastas cooked to al dente perfection, and seafood flown in fresh daily, complemented by an extensive wine list and cocktail menu. It's open daily for breakfast, lunch, and dinner.
Sunday Brunch at The Peabody
A buffet-style brunch with an abundance of breakfast dishes, entrees, and desserts. All the classical favorites are present, such as eggs benedict, smoked salmon, Belgian waffles, croissants, applewood smoked bacon, salads, and pastas.
Peabody Deli and Desserts The early bird gets the worm, if one wants to go outside and dig around the Peabody grounds, however, Peabody Deli and Desserts has adapted to the needs of modern civilization by opening daily at 6:00 AM and serving coffee, continental breakfast items, sandwiches, and a delicious array of desserts from the Peabody Pastry Shop.
The Lobby Bar can probably be referred to as "upscale casual." Located in the Peabody Hotel's Grand Lobby, the bar has been referred to as the "living room of Memphis." Memphis Magazine has deemed the Lobby Bar as the best place for people watching and martinis. So, drink up and ogle some guests.
The Peabody Corner Bar is the place to go to kick back and unwind with a drink after a day at work or a meeting. Enjoy an upscale menu of bar food inspired by Mr. Jack Daniel's, and a daily menu of drink specials. A 24-bottle Cruvinet wine dispensing system allows patrons small tastes of wines from various regions.
In-Room Dining is available 24 hours a day.
Private Dining is available in any of the restaurants or bars. To inquire or arrange an event, contact the Catering Department at (901-529-3675).
Offsite Dining
A variety of restaurants and entertainment options are within easy walking distance of the hotel, including the many attractions of Beale Street. Be sure to sample some Southern-style favorites and that smoky Memphis barbecue.