The Pfister Hotel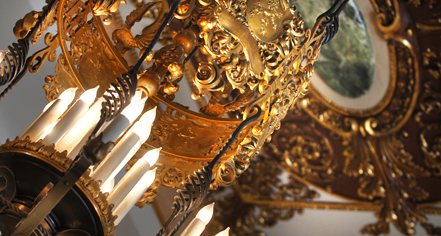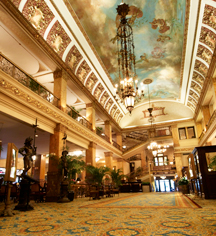 Activities & Events
WELL Spa + Salon
Redefining relaxation, health, and the full spa experience, WELL Spa + Salon is an urban escape to nourish the mind, body, and soul.
Originally the acclaimed Hammam or Turkish Bath at The Pfister Hotel over a century ago, Well Spa offers a variety of facials, massages, waxing services, body scrubs and detoxifiers, as well as unique and modern remedies, including skin bronzing and hydrotherapy bath treatments.
WELL Spa is passionate about promoting the harmony between physical and mental strength with personalized attention and ultimate luxury, featuring Milwaukee's first and only private-suite spa service. Every guest at WELL Spa is afforded a private two-room suite, including bath and shower, to allow complete indulgence and intimacy in the same convenient location for every treatment and service. Spa suites include the added comfort of adjustable table temperatures, personal iPod hookup, heated floors, heated robes, and fresh snacks and beverages.
Home to the city's most talented and knowledgeable stylists, designers, and colorists, the salon achieves beauty for every guest using the industry's latest trends, products, and techniques, including mineral makeup, straightening hair treatments, hair and eyelash extensions, and gel manicures. Every makeup, hair, and nail artists work with careful consideration to achieve the unique essence of every guest.
Artist in Residence Program
Displaying the largest collection of Victorian art of any hotel, The Pfister Hotel supports and celebrates the active and diverse artists and art communities. Every year, the Artist in Residence Program celebrates a carefully-selected talented artist by featuring a live working art studio and gallery for guests and visitors to enjoy. A member of the international Alliance of Artist Communities, The Pfister Hotel honored its first Resident Artist, Reginald Baylor, in 2009.
While its been known to display remarkable Victorian art, The Pfister Hotel hopes the program will to expand its reputation as a destination to celebrate and offer a diverse art experience. Previous Resident Artists include Shelby Keefe and Katie Musolff.
The fourth and current Resident Artist, Timothy Westbrook, works with fiber mediums, specializing in costume, performance, and installation pieces. An environmentalist, Westbrook fuses his passion for art and the conservation movement, implementing sustainable studio practices and uses re-purposed and low-impact materials and equipment.
In April 2013, painter Stephanie Barenz will begin her residency.
Dr. Jeffrey Hollander
The Pfister Hotel is honored to offer the beautiful measures of the talented and internationally acclaimed pianist, Dr. Jeffrey Hollander, everyday at the Lobby Lounge from 5:00 PM to 8:00 PM and 9:00 PM to 12:00 AM, and every first Thursday of each month at Rhapsodies in Blu from 5:30 PM to 7:30 PM.
Dr. Hollander was recognized as a musical prodigy at a very young age and received his Doctorate in Piano Performance from legendary Gyorgy Sandor. For over 25 years, Dr. Hollander has graced Milwaukee with his exquisite talents including performing a concert series at the Milwaukee Art Museum and Grohmann Art Museum.
The Pfister Narrator
With a rich history, diverse guests, and exciting events, The Pfister Hotel is a gold mine of stories and experiences. The Pfister Narrator Program was created to celebrate the casual and special occasions of the hotel through a blog written by a selected writer. The Pfister Narrator spends time in the hotel's public spaces, speaking with visitors and guests to share their stories. An important ambassador to hotel, the Pfister Narrator is a six-month tenure offering a unique perspective into the world of The Pfister Hotel, Milwaukee, and beyond.
Additional Amenities and Guest Services
Business center
Indoor pool, 23rd floor overlooking the city
Fitness facility, open 7 days a week, complimentary for all guests
Concierge
24-hour room service
Valet parking
Hotel shops

The Pfister gift shop
Roger Stevens, distinctive men's apparel
WELL Spa + Salon, salon and spa
Boutique B'Lou, fine women's apparel