The Sayre Mansion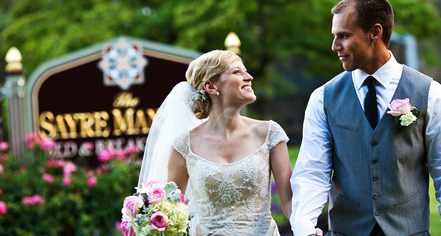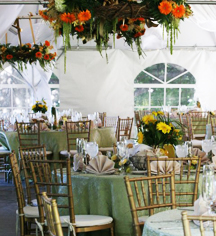 Weddings
Sitting on two acres of picturesque grounds filled with century old trees, The Sayre Mansion lends a brilliant backdrop for a breathtaking wedding. The dedicated staff is eager to assist in planning every detail with recommendations for the best local vendors, such as florists, musicians, and photographers to suit every reception and ceremony.
Venue
During the warmer months between April and October, The Sayre Mansion can host weddings up to 150 guests by incorporating the beautiful outdoor space: the parlors, porch, and patio, which adjoins an elegant 30' x 60' tent to the mansion.
With ample space to include a dance floor and entertainment, the outdoor tent is supported by protective sidewalls with arched windows allowing for an uninterrupted celebration even if the weather is inclement. Heating or air-conditioning is available in the tent at an additional cost.
For all other seasons, the mansion can accommodate smaller intimate gatherings using the hotel's romantic interiors.
Catering
For delicious cuisine and a divine dining experience, The Sayre Mansion partners with Karen Hunter Catering for menus and service to customize every wedding reception and ceremony. While The Sayre Mansion does not have a liquor license, guests are welcome to furnish their own beer, wine, and spirits for events.
Accommodations
For the ultimate intimacy and luxury, Wedding parties and guests are encouraged to enjoy the mansion and grounds exclusively by reserving all 22 guestrooms and suites at The Sayre Mansion. The unparalleled service and privacy will enhance and optimize the unforgettable celebration.