The Seelbach Hilton Louisville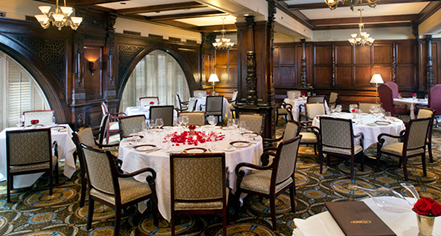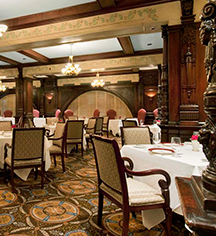 The Oakroom
Since 1907, The Oakroom has celebrated an unparalleled tradition of excellence, serving refined, seasonal cuisine in a distinguished setting. Diners at this historic establishment are treated to a unique culinary experience where dishes boast Kentucky-produce and international ingredients side-by-side. The Oakroom also maintains the largest wine cellar in the region, including varietals from the legendary growths and vineyards of France to the small artisanal producers of Sonoma County, from the banks of the Blue Danube to the Finger Lakes of New York.
In 1998, The Oakroom received Kentucky's first AAA Five Diamond Restaurant rating and, for fourteen years, has remained the only restaurant in the state with the treasured distinction.
The Oakroom and its award-winning culinary team are constantly exploring ways to improve the community through collaborations with nonprofit organizations that are committed to the growth and preservation of Kentucky's native culture and unique traditions. The Oakroom supports regional farmers and artisans whose growing processes are consistent with the philosophy on sustainability, as well as the desire to create dishes that reflect a distinct interpretation of classic American cuisine.