The Sherman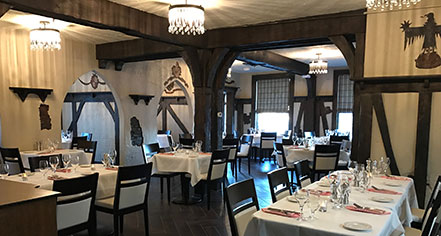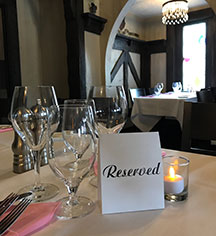 Dining
Dining at The Sherman offers a fresh connection to German and America favorites with a modern blend of trendy menu items.
Circa 1852
The unique ambiance of the Circa 1852 restaurant has the advantage of being both "fine-dining" for that special occasion, but casual diners are also thrilled with its comfortable seating and decor. Thanks in part to the stylish light fixtures, combined with Italian wood and vinyl chairs, these elements bring a contemporary layer into the slightly rustic, cross timber Tudor found throughout the room. Unique private alcoves are in high demand so be sure to request one when making a reservation. The fashionable Rhine Room, with its sleek tables and stain glass windows, is perfect for small groups. The room can quickly convert to easily handle larger groups, from 10 to 20 guests. No matter which dining room, Circa 1852's goal is to create the perfect balance of ambiance and service that uniquely and exquisitely matches the specialness of the occasion.
Executive Chef Andrew Catt is constantly curating the German-American Bistro menu to ensure a delicious spectrum of regular favorites to exceptional specials. This keeps guests intrigued with what they might find on any given visit, but with the knowledge there will always be a choice of great standards to enjoy. Circa 1852's dinner menu is well known for its spicy Falsher Hase (German-style meat loaf), tender Sauerbraten (German-style roast), Best Wurst Platter Ever (three differently seasoned German sausages exclusive to The Sherman), as well as other authentic German dishes. On the American menu side, guests regularly report that the classic Black Angus steak, fresh fish-of-the-day special, Roasted Chicken Gnocchi, Dunkel Salmon, and Roasted Herb Pork Tenderloin are more than worth a half-day's drive to feast on. The Snitzel Wiener Art and Hilde's Stroganoff are also routinely discussed in small circles. Recently, The Sherman kitchen added ever-changing grass-fed beef specials sourced from local Wolfort Farms, produced exclusively for The Sherman.
For lunch at Circa 1852, the Reuben sandwich gets rave reviews and the BLT with Neuske's bacon is always a home run. The juicy, mouth-watering Munich Burger, with ground pork and beef, rises above all burgers - the pork adds a little saltiness with lots of flavor. Other great lunch items include the battered-cod fish as a platter or have it as a 7-inch stacked-high sandwich, the tangy chicken salad on a fresh-baked croissant, or one of several fresh, fruity, cheesy salads with a generous portion of candied walnuts, dried cranberries, or roasted pecans. Add salmon, chicken, or steak to any salad for a healthy, wholesome, and satisfying meal that will send diners away grinning from ear to ear.
Menus: Breakfast | Lunch | Dinner
Black Forest Bar
Don't be surprised by the fairy tale aura when venturing into the Black Forest Bar for a cocktail before dinner or to dine. With its antique Belgium bar, low ceilings, choice of high tops or soft-seating, original art, and half-hour singing from the cuckoo clock, it is all real life. The creative bartenders are always mixing up exotic drinks, ready for the trying. Of course German beers from tap are part of the everyday experience. For dining, enjoy a steak or grass-fed beef special, or select anything else from the Circa 1852 menu. The Black Forest Bar menu offers a selection of sharable or individual appetizers, sandwiches, and other trendy items.
The Sherman Biergarten
Open between April and October, The Sherman Biergarten has live music on Friday and Saturday nights. The restaurant serves grass-fed beef burgers, Sherman brats, pretzels, and other satisfying treats to complement the diverse German and American beer selection, margaritas, wine, and mixed drinks. For information on who's playing, check the "Events" page at www.the-sherman.com/events.
Private Dining
The Sherman private dining, meeting, and banquet rooms offer other venues to help visitors conduct business, celebrate an anniversary or birthday, hold a bridal or wedding shower, host a rehearsal dinner, and so many other group functions. The banquet consultants are ready to help with any event or special occasion.