The Sherman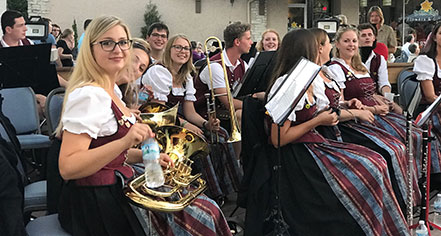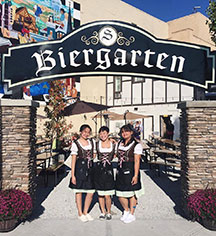 Local Attractions
Historic Gibson Theatre
107 N. Main St., Batesville, IN. (812) 934-3404
Dr. C.W. Gibson built this theatre in 1921 originally for theatrical plays and later "talking pictures." Live music, community events, and popular movies are all a part of this historic theatre. Check out the website for current showings and times.
Batesville Area Historical Society and Museum
15 W George St., Batesville, IN. (812) 934-3266
Just the right dose of a fascinating collection of the history of Batesville and the surrounding area. Complete with a display of businesses on the second floor and featured exhibits throughout the year on the first floor. Books and souvenirs are available. Open Thursday through Friday, 10:00 a.m. – 2:00 p.m. and Saturday 9:00 a.m. – noon. To visit the museum during other hours call 812-934-3266 or email BAHS@etczone.com. Free admission.
Ertel Cellars Winery and Restaurant
3794 E. County Rd. 1100N, Batesville, IN. (812) 933-1500
Take a break from the hectic pace of the world and escape to the state-of-the-art winery that opened in the fall of 2006. Watch wine being made through the great-room windows or the scenery of the gently rolling hills while enjoying lunch or dinner and tasting wines. Partake in wine tasting; gourmet dinners of steaks, fresh fish, and more; or lunch of sandwiches, salads, and soups. Winery tours available. Open Wednesday through Thursday, 11:00 a.m. – 8:00 p.m.; Friday through Saturday, 11:00 a.m. – 10:00 p.m.; and Sunday 11:00 a.m. – 8:00 p.m.
Milan '54 Hoosiers Basketball Museum
201 W. Carr St., Milan, IN. (812) 654-2772
The story known around the world, the famous small-town basketball team from Milan won the State Championship in 1954, inspiring the movie Hoosiers. This museum celebrates not only the 1954 team, but also life in a small town in Indiana in the 1950s. Stop in, you might even get to meet one of the 1954 team members. Gifts are available for the basketball lover in your family. Open Wednesday through Saturday, 10:00 a.m. – 4:00 p.m. and Sunday, 12:00 p.m. – 4:00 p.m. Monday and Tuesday by appointment only. Admission: $3/person.
Versailles State Park
1387 East U.S. 50, Versailles IN. (812) 689-6424
Versailles State Park offers hiking trails, boating, swimming, and horseback riding. Sit by the fire at campsite and share stories with family and friends or create new "fish tales" on Versailles Lake. Enjoy some of the state's best Mountain Bicycle Trails, and home to Indiana's only Civilian Conservation Corps statue, representing the work done by CCC men in the 1930s and 40s, including many buildings at Versailles State Park.
Tyson Temple United Methodist Church
324 W. Tyson St., Versailles IN. (812) 689-6976
Dedicated May 16, 1937, this very special Art Deco church is listed in the National Register of Historic Places and was created of materials collected around the world. Stop by the church office in the house next door, on Adams Street, to ask about a tour.
Bel-Aire Drive-In Theater
US 421 (North of Versailles), Versailles, IN. (812) 689-5525
Open in the summer.
Big Oaks National Wildlife Refuge
Madison, IN. (812) 273-0783
Formerly known as the Jefferson Proving Ground, the 50,000 acres is now managed wildlife. Activities are held throughout the year by the Big Oaks Conservation Society. Old Timbers, an old lodge on the property is the site for many events.
Covered Bridges
Ripley County, IN. (812) 689-7431
Ripley County, Indiana is home to two covered bridges: Busching Covered Bridge and Otter Creek Bridge. The Busching Bridge, near Versailles at the Versailles State Park entrance, was built in 1885. Otter Creek Bridge, near Holton, was built in 1884. The bridges are listed on the Ripley County Map. Contact the Ripley County Tourism Bureau for more information.
Stone Arch Bridges
Ripley County IN. (888) 747-5394
Built in the late 1870s and 1880s, Ripley County is home to many stone arch bridges, and is one of very few counties that still have handcrafted stone arch bridges in use. They are located on a four-color Ripley County map provided by the Ripley County Commissioners. The maps are available in many county offices, as well as at the Ripley County Welcome Center at 220 E. U.S. 50, Versailles, Indiana. Call the Ripley County Tourism Bureau at (812) 689-7431 for more information.
Underground Railroad Driving Trails
Versailles, IN. (812) 689-7431
Spend a day or two traveling the countryside and learning about the history of the Underground Railroad throughout Ripley County, as well as other places of historic note. Five driving tours are outlined in a free booklet that you can follow, mile by mile. The trails all begin on the Ripley County Courthouse Square in Versailles. Brochures are available at the Ripley County Historical Society (on the Courthouse Square in Versailles), or the Ripley County Tourism Bureau located at 220 E. US 50 in Versailles. Brochures are located outside the Tourism Bureau/Welcome Center so they are available 24/7.
Morgan's Canoe and Cabins
7040 Whitewater River Ln, Brookville, IN. (888) 304-49044
Outdoor adventures in Canoeing, Kayaking, Rafting and Camping.
Wolf Creek Habitat & Rescue, Inc.
7040 Whitewater River Ln, Brookville, IN. (513) 312-9143 (Cell)
Topic: Wolf. Wolf Creek Habitat is here to educate. All visitors are welcome on the weekends.
Michaela Farm | Sisters of St. Francis
7040 Whitewater River Ln, Brookville, IN. (812) 933-0661
The farm derives its name from Sister Michaela Lindemann, one of the first women to join the new congregation of the Sisters of St. Francis in 1851. Sister Lindermann began directing the work on the then newly acquired land in 1854.
Skyward Adventures Ziplining
(765) 547-1947
Adventures of a life time. Open 7 days a week, all year. Reservations required.
Metamora, Indiana
The whole town is a site to see.
Whitewater Valley Railroad
(765) 825-2054
Travel through time on Indiana's most scenic railroad. The Whitewater Valley Railroad operates trains and special events throughout the year.
Whitewater Canal Trail
(513) 295-4820
The Canal Trail follows the historic canal route as it travels through the heart of the Whitewater River Valley in Franklin County, Indiana.
Whitewater Canoe Rental
(765) 647-2330, (765) 647-5434, (800) 634-4277
Whitewater River float trips renting canoes, kayaks, rafts, tubes, and campsites on the privately owned sections of the Whitewater River. Shuttle service available.
Whitewater Canal State Historic Site
(765) 647-6512
The Whitewater Canal State Historic site operates a horse-drawn canal boat, the Ben Franklin III, as well as the Metamora Grist Mill.