The Sherman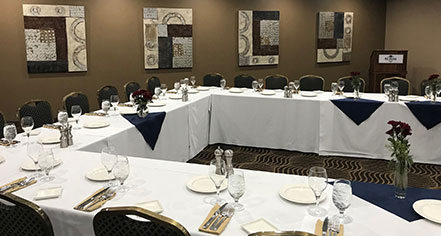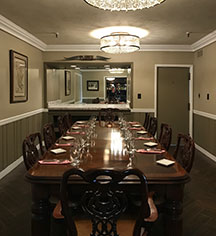 Meetings & Groups
The Sherman makes any occasion special. This upscale boutique inn, bar, and restaurant has a historic charm with modern character. The contemporary event spaces has historical overtones and are rich in ambiance and design. The hotel provides exceptional service and can accommodate groups of 10-150. Catering is available for authentic German and carefully crafted American cuisine in curated banquet displays. The Sherman offers diverse dining and drinking options, and eclectic guestrooms, parlors, and suites. From large groups to private parties, the knowledgeable banquet specialists can meet to discuss event needs and ensure the vision is translated into reality.
Contact the knowledgeable Sherman staff to help with accommodations, menus, meeting rooms, and all the details that will ensure a memorable event that is uniquely special. The Sherman provides choices that will fit the occasion and supplies all the options for making the gathering outstanding and pleasant.
Boehringer Hall
This ideal space is for receptions, business meetings, and large group gatherings for up to 100 attendees. The modern, contemporary, and spacious Boehringer Hall can be arranged in various ways - small round, large round, rectangular, individual, horseshoe shape, and more. Named after Batesville's first builder, Boehringer Hall comes equipped with two large flat-screen TVs for presentations, movies, or entertainment of choice. For business meetings, there are seminar tables with outlets for plugging in mobile devices. When choosing catering options, select from buffet, family style, or à la carte. Guests can order drinks from a service bar inside or visit the neighboring Black Forest Bar. The Sherman can handle everything from arranging the tables to designing the centerpieces, or hosts can bring their own decorations. There are plenty of choices and the event planners will help in determining the best solutions for the event.
Hillenbrand Room
The Hillenbrand Room is perfect for showers, parties, reunions, and office get-togethers with fireplace ambiance for groups up to 40. It is delightfully cozy and eclectic. Children can enjoy their own section of benches and tables; not too far for keeping an eye on, but gives them their personal space to feel grown-up.
Lone Star Room
This lovely private dining room for up to 10 speaks to the wide open landscapes of South Texas and invokes the scenery where oil barons met with bankers to fund their drilling expeditions. Enjoy the unique artwork and antique furniture while thoroughly impressing guests. A cheerful space to wine, dine, meet, laugh, and play.
Catering for Authentic German and American Cuisine
The Sherman's recipes provide distinct flavors that tantalize and satisfy. The unique catering menus are full of flavorful entrees, salads, sides, and appetizers created from fresh ingredients in the hotel kitchen. The savory Germany cuisine is unique in the Midwest and allows hosts to create an interesting twist on a special rehearsal or reception. Just as special, the American menu is prepared from fresh ingredients to ensure everything will be scrumptious every time. Guests will be astonished at how tasty everything is, all the way through the meal to the amazing homemade desserts.
Catering Menus: Anytime German | American Classics