The Sire Hotel Lexington, Tapestry Collection by Hilton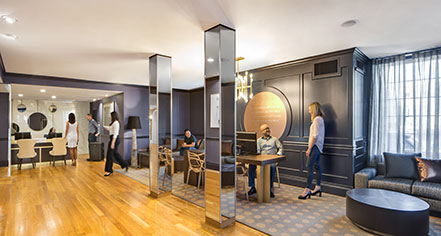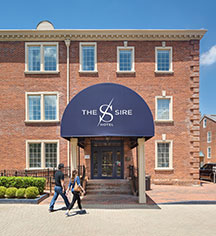 History
The Sire Hotel Lexington, Tapestry Collection by Hilton occupies the site of the former Gratz Park Inn, which is part of Lexington's beautiful Gratz Park Historic District. Before its time as both a hotel and an inn, the location was originally the home of a family medical practice called the Lexington Clinic. Three local doctors—Waller O. Bullock, David Barrow and David Woolford Barrow—commissioned the construction of the building in 1916 to house their budding practice. Completed a year later, the facility quickly became a fixture in the community. Their office had become so popular that by 1920 it employed nine permanent doctors, including the three founders. Bullock and the two Barrows decided to formally incorporate their practice, christening it the Lexington Clinic that same year.
The Lexington Clinic continued operating from the building until it moved to another neighborhood in 1958. Shortly after its relocation, the structure became the headquarters for the Fuller Engineering Firm over the next two decades. After sitting dormant for several years, the building received a new lease on life in the form of an ambitious renovation project during the late 1980s. Several entrepreneurs decided to thoroughly rehabilitate the historic structure into a lovely inn. Debuting as the Gratz Park Inn in 1987, the building once again emerged as a cherished local landmark.
After operating as the Gratz Park Inn for more than thirty years, its owner decided to sell the building in 2017 to a team of hoteliers from Rolling Hills Hospitality and RainMaker Hospitality. Partnering with Hilton Hotels, the two companies subsequently closed the inn with plans to fully restored the site into a boutique hotel. Reopening in 2018 as The Sire Hotel Lexington, Tapestry Collection by Hilton, this amazing historic hotel is a wonderful vacation getaway nestled in the heart of the Bluegrass State.
The Sire Hotel Lexington, Tapestry Collection by Hilton, a member of Historic Hotels of America since 2019, dates back to 1916.