The Skirvin Hilton Oklahoma City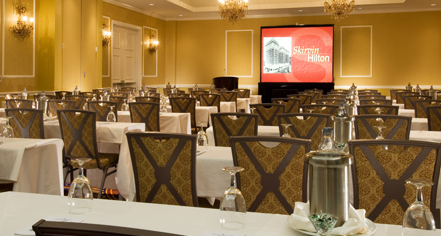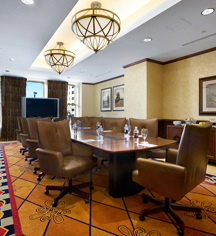 Venues & Services
Grand Ballroom
The Skirvin Hilton Oklahoma City's Grand Ballroom is 6,120 square feet of expansive opulence. Though most people will point to the magnificent marble staircase, the Grand Ballroom's versatility is makes it one of The Skirvin Hilton's most popular venues. With the capability to easily divide into six separate spaces, this grand ballroom can accommodate any meeting size and needs of any occasion.
Centennial Ballroom
At 2,048 square feet, the Centennial Ballroom can be divided into three separate sound proof rooms. This classically adorned ballroom commemorates The Skirvin Hilton's 100th birthday, which was celebrated in October 2011.
Continental Room
Occupying 1,444 square feet of The Skirvin Hilton's 14th floor, The Continental Room features a breathtaking view of Oklahoma City's downtown skyline.
Crystal Room
Celebrating and perserving The Skirvin Hilton's historic grandeur, The Crystal Room displays the originally restored chandeliers over the intimate setting.
Crystal Room
The Crystal Room preserves The Skirvin Hilton's historic grandeur with originally restored chandeliers hanging over an intimate setting of 1,722 square feet.
Founders Room
Located adjacent to the Continental and Venetian Rooms, the Founders Room is the ideal space for medium-sized events or breakout sessions.
Venetian Room
Quite possibly The Skirvin Hilton's most storied venue, the Venetian Room was once a hotspot for live orchestras and vaudeville acts. Today's 2,600 square foot Venetian Room has been restored to the splendor of its 1930's heyday.
Boardroom Suites
The Skirvin Hilton Oklahoma City features three intimate boardroom suites named after significant figures of the hotel and city's rich history: Henry Overholser, Perle Mesta, and W. B. Skirvin. Identical in size, The Henry Overholser Boardroom and Perle Mesta Boardroom can accommodate 14 guests, while the slightly bigger W. B. Skirvin Boardroom can seat up to 16.