The Stanley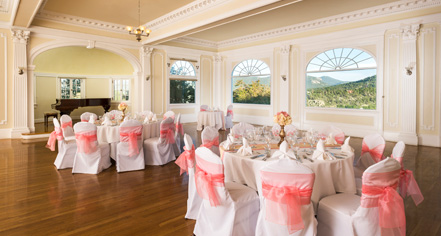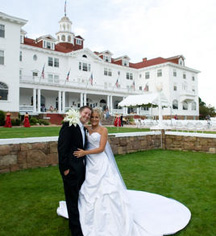 Weddings
For an unforgettable day, The Stanley hits the mark from all sides. Between the awe-inspiring natural beauty of the Rocky Mountains, the healing Colorado mountain air, and the stunningly gorgeous, romantic woodwork and historic architecture, The Stanley truly offers a unique wedding-day options for couples with personality.
Between the main building and The Lodge at The Stanley, the historic hotel can accommodate weddings up to 200 guests. The Lodge offers more intimate, private settings and the main building contains the MacGregor Ballroom, The Stanley's largest event space.
The Stanley offers a variety of wedding packages to make the wedding planning process stress-free and includes things such as a complimentary champagne toast for the couple and guests, a professional banquet staff, and a dedicated Event Manager to help coordinate all the details for the big day. For more information on planning the big day, call 970-577-4018.
MacGregor Ballroom
The largest event space right next to the grand lobby entrance with grand views of the majestic Rocky Mountains, richly detailed woodwork, a large stage, dance floor, and seating for up to 200 guests.
Concert Hall
A more secluded setting with accommodations for up to 150 guests for a wedding reception and 200 for a ceremony. A beautiful setting in its own right with dramatic high ceilings, large windows, and a private veranda to enjoy the spectacular Rocky Mountains.
Pinon & Billiard Rooms
With two rooms combined, 80 guests can be accommodated for a wedding reception. With Colorado's largest stone fireplace, beautiful pinon woodwork, and the east veranda overlooking the valley and Lake Estes, this is a truly romantic venue, full of historic charm.
Music Room
The Music Room is another venue ideal for a smaller reception or ceremony with a capacity of 70 and 130, respectively. Drink in the drama of the arched Palladian windows framing the majestic mountains, and maybe a guest knows how to tickle the ivories and can jump on the historic Steinway piano in the room.
Library Room
Perhaps the couple loves to get lost in a good book. The Library Room, located in The Lodge at The Stanley, can accommodate up to 50 guests for a reception and features dramatic mountain views, bookcases, and a cozy fireplace. The Library Room has access to an east veranda overlooking the valley and Lake Estes.