The Strater Hotel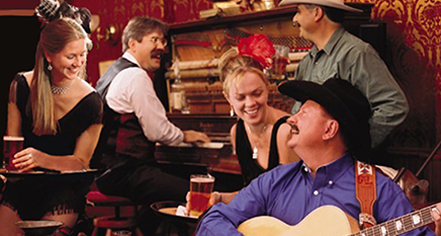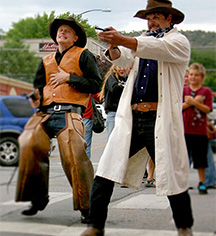 Activities & Events
The Concierge Staff
The friendly and knowledgeable staff is available to assist in planning and scheduling activities, amenities, and services to create a truly memorable stay. The hotel is dedicated to ensuring that all of the guests' needs are met.
Activity Scheduling
The professional staff is available to assist in scheduling a variety of activities, including massage, Durango & Silverton Narrow Gauge Railroad trips, rafting, Mesa Verde National Park tours, dining, rafting, skiing, and more.
Amenities
Guests may request the variety of fine amenities to their reservation. Food and amenities are prepared daily by the award-winning Mahogany Grille restaurant staff and include the following options:
Chocolate Covered Strawberries
Fruit and Cheese Plate
Boxed Lunches
All food amenities carry a 24 hour cancellation policy
Bell Service
The Bell Staff is available from 7:00 a.m. to 10:00 p.m. daily to assist with luggage. Please inquire at the front desk.
Business Services
For business needs, the front desk staff is available to assist with copying, printing, scanning, and faxing 24 hours a day. Complimentary wireless Internet access is available.
Complimentary Recreation Center Pass
Guests registered with The Strater Hotel may request complimentary passes to the Durango Community Recreation Center located just north of the Strater Hotel on Main Avenue. The center offers two indoor pools, a hot tub, indoor track, basketball court, racquetball courts, workout classes, and full workout facilities.
Daily Live Music
Every day, the hotel offers daily live music in the Diamond Belle Saloon and The Office Spiritorium with popular local musicians and periodically guest musicians. Longtime Durango band, the Bluemoon Ramblers perform every Sunday at the Diamond Belle Saloon
Dry Cleaning Service
Same-day service is available Monday through Friday. Pick-up is at 8:00 a.m. and items are returned by 5:00 p.m. the same day.
Events
Throughout the year, The Strater Hotel hosts a variety of events, and every year introduce new events. The mainstay events include:
Durango Ragtime & Early Jazz Festival (March)
Live Theatre Performances: comedy shows, concerts, Durango Melodrama & Vaudeville (year-round)
Morning with Santa (December)
New Year's Eve Celebrations (December)
Rocky Horror Show - Live On Stage (October)
Snowdown Events (January/February)
Strater Culinary Safari (Monthly)
Strater Hotel Annual Open House (April)
Room Service
Room service is available nightly from award-winning Mahogany Grille.