The Westin Poinsett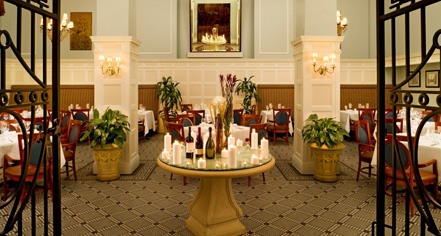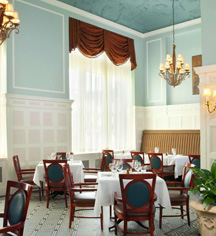 Dining
Spoonbread Restaurant
Named after the traditional southern cornmeal dish, Spoonbread Restaurant offers classic American fare in a relaxed, graceful setting. With much debate over the secret ingredient, The Westin Poinsett's famous spoonbread recipe is a favorite among locals and visitors. Located on the lobby level, Spoonbread Restaurant's antique light fixtures, 20 foot ceilings, and historic moldings provide an understated elegance to complement every meal. The southern hospitality has remained consistent throughout the years, but the menu has evolved quite a bit since the restaurant's opening in 1925. View a copy of the original Poinsett Hotel menu.
View Breakfast Menu
View Lunch Menu
View Sunday Brunch Menu
Monday to Friday
Breakfast: 6:30 AM - 10:30 AM
Lunch: 11:30 AM - 2:00 PM
Saturday
Breakfast: 7:00 AM - 10:30 AM
Lunch: 11:30 AM - 2:00 PM
Sunday
Breakfast/Brunch 7:00 AM - 2:00 PM
Joel's Java Coffee Shop
Perfect for guests on-the-go, Joel's Java Coffee Shop is situated on the ground floor and offers light breakfasts, snacks, Seattle's Best Coffee®, and Tazo Hot Teas®.
The Piano Bar and Lounge
Boasting a relaxing ambiance, a comfortable setting to unwind, The Piano Bar and Lounge features a selection of local beers, premium wine, top-shelf liquors, a special bar menu, and live music and entertainment.
View Beer and Wine Menu
View Food Menu
Open from 4:00 PM - 12:00 AM daily.
In-Room Dining
For an effortless Greenville dining experience, The Westin Poinsett offers a 24-hour in-room dining service. Culinary delights are available for guests to enjoy in the privacy and comfort of every guestroom or suite.