The Whitehall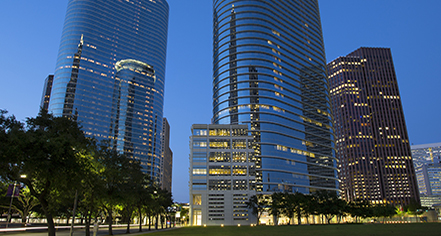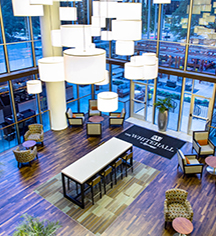 History
Opened in 1963 in the heart of Houston's Central Business District, "The Whitehall" quickly became known as the city's most iconic hotel. It was designed by Welton Becket and Associates, one of the largest architectural firms in the United States at the time. Becket and his partner Walter Wurdeman developed the concept of "total design," whereby the firm would master plan all aspects of the hotel's identity, including engineering, interiors, furniture, fixtures, landscaping, and signage. In the case of restaurants, silverware, menus, matchbooks, and napkins were also included in the designs. Many of the original hallmarks of Becket's design remain today, including the spiral staircase connecting the first and second floor public spaces, and the white Italian marble flooring.
The Whitehall closed in 1991, and the late 1990s brought about investors that poured $25 million into the redevelopment of the Houston hotel. It reopened in 2001 as the Crowne Plaza Houston Downtown. The hotel is directly connected via skywalk to more than 2 million square feet of Class A office space, with major tenants such as KBR, Chevron, and United Airlines. Superbly located, local and tourist attractions such as the George R. Brown Convention Center, Rice University, Minute Maid Park - Home of the Astros, and Houston's Theatre District - the second largest in the United States next to New York City, are easy to access.
Sotherly Hotels acquired the property in November 2013 and began a $4.8 million renovation in 2014 of the guest rooms, public spaces, and food and beverage outlets, including the casual coffee bistro, Buffalo Bayou Coffee, and an outdoor restaurant and bar, Part & Parcel. Notable guests of the Whitehall include Sonny and Cher, Graham Nash, David Crosby, Bob Dylan, President Barack Obama, and Vice President Joe Biden.

The Whitehall, a member of Historic Hotels of America since 1999, dates back to 1963.