The Wigwam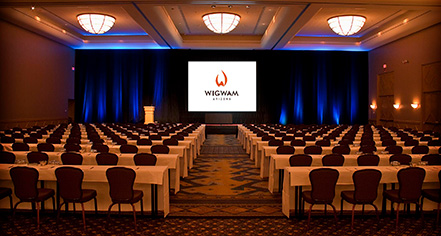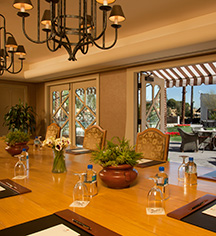 Meetings & Events
No place runs an Arizona conference quite like The Wigwam, located conveniently right outside of Phoenix. The Wigwam's event planners run a tight ship and meetings are well-remembered in the gorgeous garden/desert setting. Break the confines of the indoors with 10 gardens and events lawns. Bask under the warmth of the Arizona sun and the complete resort experience between trips to the golf course, the spa, and top-notch restaurants at the historic Wigwam.
The Wigwam offers 25 separate meeting rooms with a total of 45,000 sq ft of indoor meeting space, 55,000 sq ft of outdoor meeting space. This Arizona resort is equipped with a business center with WiFi and audio/visual specialists.
In addition to exceptional meeting services, extra activities, such as Hopi storytelling under the stars to dinners at Sunset Point, The Wigwam's signature Old West-flavored outdoor venue with a stunning backdrop of the painted Arizona desert.
Meeting Venue Floor Plans/Capacity Charts
What's More Important Than Food? (Banquet Menu)
Event Space Chart:
| | | | | | | | | | |
| --- | --- | --- | --- | --- | --- | --- | --- | --- | --- |
| | | | | | | | | | |
| Wigwam Ballroom | 10,800 | 72 x 150 x 18 ft | 675 | 1,000 | 800 | 1,200 | - | 120 | 180 |
| Aztec | 2,880 | 72 x 40 x 18 ft | 180 | 260 | 200 | 320 | 65 | 72 | 86 |
| Aztec A, B or C | 960 | 24 x 40 x 18 ft | 60 | 90 | 60 | 100 | 25 | 32 | 40 |
| Hopi or Pima | 2,520 | 72 x 35 x 18 ft | 150 | 230 | 180 | 280 | 60 | 72 | 84 |
| Pueblo | 2,880 | 72 x 40 x 18 ft | 180 | 230 | 180 | 320 | 65 | 72 | 86 |
| Pueblo A or C | 960 | 24 x 40 x 18 ft | 60 | 90 | 60 | 100 | 25 | 32 | 40 |
| Pueblo B and C | 1,920 | 48 x 40 x 18 ft | 120 | 175 | 120 | 200 | 40 | 48 | 60 |
| 1/2 of Wigwam Ballroom | 5,400 | 75 x 72 x 18 ft | 330 | 500 | 400 | 600 | - | 90 | 120 |
| 3/4 of Wigwam Ballroom | 7,920 | 72 x 110 x 18 ft | 500 | 720 | 600 | 850 | - | 108 | 150 |
| Mohave Ballroom | 5,390 | 77 x 70 x 12 ft | 330 | 500 | 400 | 600 | - | 86 | 110 |
| Mohave East or West | 2,695 | 77 x 35 x 12 ft | 165 | 250 | 200 | 300 | - | 60 | 72 |
| Sachem Ballroom | 5,084 | 62 x 82 x 16 ft | 320 | 450 | 350 | 550 | - | 80 | 100 |
| Sachem East or West | 2,542 | 62 x 41 x 16 ft | 160 | 225 | 160 | 275 | 55 | 45 | 60 |
| Kiva and Sahuaro Meeting Rooms | 2,016 | 28 x 72 x 9 ft | 100 | 175 | 120 | 150 | 46 | 60 | 66 |
| Kiva East and Kiva West | 1,344 | 28 x 48 x 9 ft | 60 | 100 | 80 | 100 | 32 | 40 | 44 |
| Sahuaro | 672 | 28 x 24 x 9 ft | 30 | 50 | 40 | 50 | 16 | 20 | 24 |
| Kiva East or West | 672 | 28 x 24 x 9 ft | 30 | 50 | 40 | 50 | 16 | 20 | 24 |
| Palo Verde Meeting Room | 1,152 | 32 x 36 x 11 ft | 70 | 100 | 70 | 100 | 26 | 30 | 36 |
| Palo Verde North or South | 576 | 32 x 18 x 11 ft | 32 | 50 | 30 | 50 | 15 | 18 | 22 |
| Arizona Room | 1,680 | 28 x 60 x 10 ft | 90 | 150 | 100 | 125 | 40 | 44 | 48 |
| Arizona Kitchen | 1,800 | - | 70 | 130 | 80 | 105 | 20 | 24 | 28 |
| Palm Board Room | 540 | 18 x 30 x 9 ft | - | - | - | 30 | 12 | - | - |
| Orchard Room | 450 | - | - | - | - | - | 12 | - | - |
| Garden Room | 400 | - | - | - | - | - | 12 | - | - |
| Cholla Room | 100 | 10 x 10 x 8 ft | - | - | - | - | - | - | - |
| Oraibi Executive Meeting Suite (Parlor Only) | 1,800 | Ceiling 16 ft | - | - | - | 150 | 36 | - | - |
| Bacabi Executive Meeting Suite (Parlor Suite) | 750 | Ceiling 12 ft | - | - | - | 50 | 16 | - | - |
| Suites #338 - #343 | 360 | 24 x 15 x 8 ft | 12 | 20 | - | - | 10 | - | - |
| Wigwam Lawn & Patio | 14,000 | - | - | 250 | 300 | 500 | - | - | - |
| Front Lawn | 12,000 | - | - | 1,200 | 700 | 1,000 | - | - | - |
| Palm Courtyard | 4,420 | - | - | 150 | 100 | 250 | - | - | - |
| Trellis Garden | 6,000 | - | - | 200 | 200 | 225 | - | - | - |
| Litchfield Lawn | 6,175 | - | - | 300 | 240 | 300 | - | - | - |
| Litchfield Patio | 1,500 | - | - | - | - | 125 | - | - | - |
| Sachem Terrace | 2,800 | - | - | 150 | 160 | 225 | - | - | - |
| Oasis Pool Lawn & Patio | 2,500 | - | - | 125 | 110 | 150 | - | - | - |
| Oasis Pool Deck | 2,500 | - | - | - | - | 150 | - | - | - |
| Village Green (Tee Pee) | 15,000 | - | - | 1,300 | 1,200 | 1,500 | - | - | - |
| Sunset Point | 8,000 | - | - | - | 350 | 500 | - | - | - |
| Garden Lawn | 1,500 | - | - | 80 | - | 100 | - | - | - |
| Garden Green (Red Allen's) | - | - | - | - | - | - | - | - | - |
| Red Allen's Patio | 1,500 | - | - | 50 | - | 100 | - | - | - |
| Junior Golf Lawn | - | - | - | - | 200 | - | - | - | - |
| Red's Bar & Grill Private Room | - | - | - | 12 | - | - | - | - | - |