The Willard InterContinental, Washington DC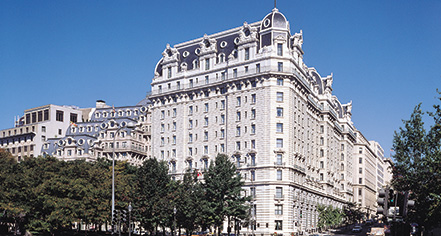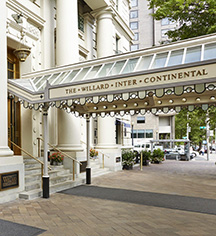 Local Attractions

A Perfect Day by the Chef Concierge, Robert Watson:
MORNING
Washington is a city at the heart of American history and one synonymous with prestige, politics and power. A morning in Washington is all about the great power breakfast and breakfasts come with a big helping of power at the Old Ebbitt Grill. Literally round the corner from the hotel, it is often joked that more business gets done at this spot than on Capitol Hill. Indeed, this 150-year old breakfast bar is teeming with the city's powerbrokers, congressmen and lobbyists peppering the booths, devouring their breakfasts and taking their morning meetings.

AFTERNOON
Washington is just great to walk around in; it's a planned city with a feeling of spaciousness and lots of green spaces giving it an air of calm. It is also replete with museums and galleries, promising a display of the nation's history. Facing the Old Executive Office building, the Renwick Gallery is a satellite of the Smithsonian, Washington's first art museum, yet not nearly as frequented as the Smithsonian itself. Pockets of privacy can be found in this beautiful place, giving the impression that you have stumbled into a rather grand private house. To punctuate your explorations with lunch, the National Gallery'sCascades cafe; offers sumptuous food and a waterfall as its centrepiece. In addition, the last touristy part of Washington is just a taxi ride away from here. Georgetown is like an eighteenth century village, built before Washington DC, with beautiful historical places and a friendly feeling of intimacy. Two beautiful places to visit here are the Old Stone House (the oldest building in Washington DC) , and Dumbarton Oaks, a gorgeous 19th century house. For me though, the ten acres of gardens outdo even the house.

EVENING
I always think that Washington is even more beautiful at night than it is in the day. In the day it glistens in the sun but at night it sparkles with its own show of lights. The Memorials are light in a unique way. For dinner, a true Washington experience can be garnered at the 1789 restaurant, in an elegant period setting. A dinner jacket is required, for although it is relaxed, this is a setting where men of influence dine, and the pomp of American tradition melts into the walls.

Featured Historic Sites:
In your travels, be sure to visit local National Trust Historic Sites and discover great architecture, magnificent landscapes, and life-changing stories.

Frank Lloyd Wright's Pope Leighey House
Oatlands Historic House and Gardens
Belle Grove Plantation
Decatur House on Lafayette Square
James Madison's Montpelier
President Lincoln's Cottage
Woodlawn
Woodrow Wilson House
***
Take time to explore Recreation.gov to browse the Destination National Capital Region & Chesapeake Bay Itinerary, including these sites:
Martin Luther King Jr. Memorial
Rock Creek Park
African American Civil War Memorial