The Wort Hotel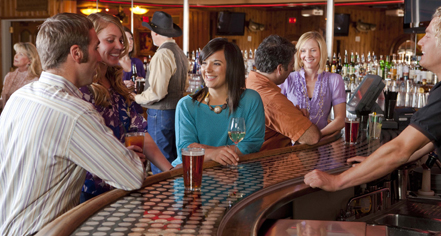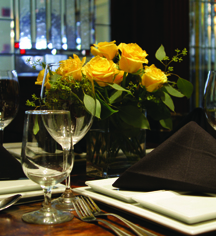 Dining
Silver Dollar Grill
A casual, family-friendly atmosphere offering a timeless, memorable Western dining experience for families, couples, friends, and acquaintances. Custom black walnut tables with inlaid 1921 Morgan silver dollars, original Western artwork, stained glass, and even a roulette wheel dating back to the gambling days of Jackson, Wyoming, are all utilized to create a unique yet comfortable dining experience. Diners can enjoy deliciously prepared regional game and seasonal specials. Enjoy fine dining, an award-winning wine list and friendly service reminiscent of The Wort Hotel's Western heritage.

Hours of Operation
Breakfast, 7:00 a.m. - 11:00 a.m.
Lunch, 11:00 a.m. - 2:00 p.m.
Dinner, 5:30 p.m. - 9:00 p.m.

Menus: Breakfast | Lunch | Dinner | Wine
Silver Dollar Bar
The Silver Dollar Bar has entertained and enticed guests since the earliest days of Jackson Hole tourism. The name comes from the 65-foot serpentine bar inlaid with 2,032 uncirculated 1921 silver dollars from the Denver mint. From the early days of cowboys and poker games, to après ski and live music, the Silver Dollar Bar remains a lasting tradition in Jackson Hole. The Silver Dollar Showroom, adjacent to the Bar, provides the best nightlife in Jackson Hole including Bluegrass Tuesdays with local favorites One Ton Pig, a true Jackson Hole must-see. For a music schedule, click here.

Food Service
Monday through Sunday, 11:00 a.m. - 9:00 p.m.

Live Music
Tuesday, Thursday, Friday, and Saturday, 7:30 p.m. - 11:00 p.m.
Sunday, 7:00 p.m. - 10:00 p.m.
Private Dining
The Silver Dollar Grill in The Wort Hotel provides intimacy and art depicting the Lewis and Clark expedition. The John Clymer room, named after the artist responsible for the prints in the room, accommodates up to 26 guests. The Clymer Room is ideal for special functions that require an elegant, yet social space.