Timberline Lodge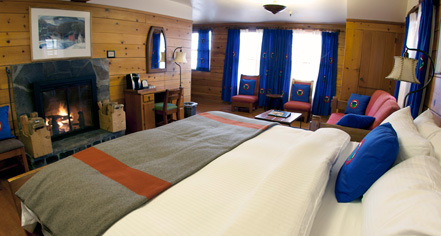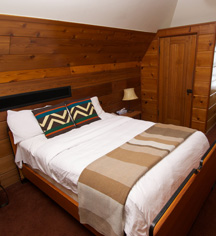 Accommodations
Radiating its inviting warmth, Timberline Lodge affords rural luxury accommodations that equally aligns with its genuine hospitality and unique facilities. Built by hand, using materials native to the region, guestrooms at Timberline Lodge celebrate its local landscape and heritage, offering a variety of rooming options.
Fireplace Guestrooms are a whimsical retreat boasting king-size beds, some include an additional twin-size bed, a comfortable sitting area, private bath, and an authentic wood-burning fireplace. Each uniquely styled, Fireplace Guestrooms are decorated with original handcrafted furniture, fabrics, and rugs.
Featuring a king- and two twin-size beds and a private bath, Corner Guestrooms are spacious and ideal for families. Some Corner Guestrooms also offer a sofa and sitting area.
Possessing an intimate charm, Timberline Queen guestrooms are furnished with a variety of bed layout options and a private bath. Queen guestrooms may include a queen-size bed, a queen- and double-sized bed, or a queen- and twin-sized bed.
Ideal for families or groups, the spacious Chalet Guestrooms exhibit European-style with their bunk bed layouts available in a variety of sizes, sleeping up to 15 guests. Chalet Guestroom share access to several baths and showers located in the hallway, aside from one guestroom which features a private bath. Fixed without televisions and steps from the year-round swimming pool, Jacuzzi, and indoor sauna, Chalet Guestrooms are the perfect escape from modern distractions.
Silcox Hut


Affording unique accommodations for groups and parties, the Silcox Hut is an intimate two-level guesthouse above the main lodge at 7,000 feet. This private house features six bedrooms, a kitchen and bar, and a spacious living area with a fireplace and hand-carved wooden tables and chairs.
With enough space to sleep up to 24 people, the Silcox Hut offers five bedrooms with two stacked single-bunks, for a total of four beds in each room, and one bedroom with two stacked queen-sized bunks. Separated by curtains serving as doors, all the bedrooms are adjacent and share three baths, one with a shower. While Timberline Lodge offers Silcox Hut guests the luxury of provided bunks and bedding, occupants have the option to bring their own bedding. Silcox Hut guests are also welcome to use the facilities at the main lodge, including the pool, sauna, spa, and showers.
For guaranteed comfort, the Silcox Hut guests are given the pleasure of a personal host for the entire stay. Silcox Hut hosts prepare full family-style meals for guests and serve as an exclusive representative of Timberline Lodge.
Guestroom amenities:
Television (except Chalet Guestrooms)
Hair dryer
Iron and board
Alarm clock
Fan
Heater
Complimentary toiletries
Timberline Lodge is an exciting facility offering convenient amenities and activities for every guest:
Complimentary coffee - available from 6:00 AM to 9:00 AM in the lower lobby
DVD players and movie rentals - available at the front desk
Game room and lending library - available at the front desk
Shuffleboard, table tennis, and book lending library in the Barlow Room
Wireless Internet access in common areas
Heated outdoor swimming pool (open year-round)
Whirlpool/hot tub
Sauna
Fitness room
Laundry services (reservations recommended)