Timberline Lodge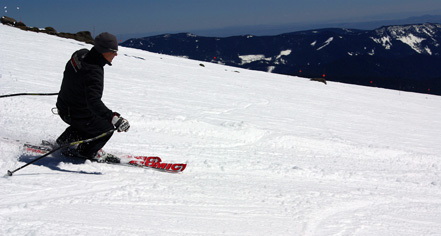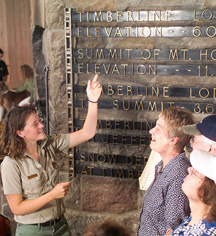 Activities & Events
Lodge Tours
Partnering with the US Forest Service, Timberline Lodge proudly offers free tours of the property and surrounding mountain and forest area to the public and two million annual visitors. Tours are guided by a US Forest Service Ranger who will explore the rich heritage of the lodge, architectural details, and its uniqueness and significance to American history.
Tours are free, but donations are appreciated to ensure programs such as this can be continued in the future.
Ski and Snowboard
Available year-round, skiing and snowboarding has found an embracing home at Timberline Lodge, stage to the world-renown Palmer Snowfield topping out at 8,540 feet. Retaining snow all year, Palmer Snowfield hosts to one of the most enthusiastic winter sports scenes, offering training camps for professional and amateur athletes, freestyle terrain, and designated public ski and snowboarding areas. With beautiful views and a state-of-the-art ski resort, Timberline Lodge is a snow-sport enthusiast's dream.
Hiking
Atop Mt. Hood, surrounded by Oregon's magnificent Cascade Mountain range and lush forest, Timberline Lodge affords a stunning backdrop and great hiking opportunities, including the Pacific Crest Trail, Timberline Trail, and smaller trails along the lodge. Hiking supplies are available at the bottom floor of the Wy'East Day Lodge.
Shopping
Timberline Lodge boasts two gift shops for guests and visitors to bring home a memory of their unforgettable experience. Situated in the Historic Lodge, the Gallery Gift Shop displays an excellent collection of beautiful locally-crafted items. Across the parking lot of Timberline Lodge, the Wy'East Gift Shop in the Wy'East Day Lodge features an extensive collection souvenirs and gifts.
Mountain Biking
Open summer of 2019, the Timberline Bike Park caters to all ages and all riding abilities, from beginner to advanced, serving local, regional and global riders of varied interests and skill levels. The Bike Park includes a skills park, trail system, natural features, built features, and jump lines. It is a full-service bike park offering all levels of bike rentals plus protective gear and helmet rentals. Bikes and equipment will also be offered for sale in the Wy'East Store. Timberline Bike School offers lessons and bike tours for all skill levels.