Tubac Golf Resort and Spa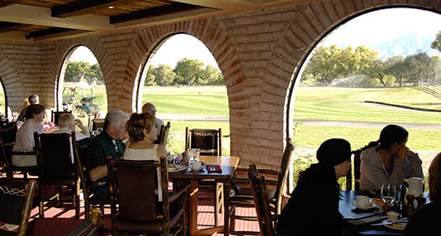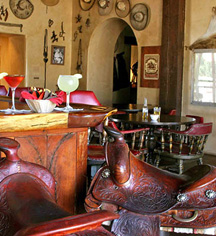 Dining
Named for its historic significance, Stables Ranch Grille is ideally set between the vibrant Fountain Courtyard and the distinguished Island Green. Serving unique Mexican delicacies, perfect steaks, and fresh seafood, this lively establishment has hosted Hollywood's elite, including John Wayne and Stewart Granger.
As the resort's signature restaurant, Stables Ranch Grille is led by Executive Chef John Woosters, who brings his prestigious experience and creative executions to the table with diverse menus, banquet planning, and specialty wine and tequila dinners.
Known for its ambiance, cuisine, and hospitality, Stables Ranch Grille is the choice dining establishment for a refined dinner, refreshing beverages on the patio, or a quick bite for golfers. On the weekends, live music and entertainment complements the restaurant's perfect location to watch the sunset.
Affording an inviting warmth, The Bar at Stables features a light bar menu and signature cocktails that guests can enjoy on the patio overlooking the Island Green and the Santa Rita Mountains.