Water's Edge Resort and Spa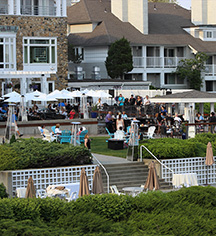 Spa
Guests looking for relaxation will not have to look very far - The Spa at Water's Edge is located on the second floor of the main hotel. It includes eight treatments rooms, a nail salon, locker rooms, and a relaxation area. The highly skilled massage therapists and estheticians perform a wide variety of decadent treatments including massages, facials, body treatments, and nail services. The spa is open year-round and is open to the public.
Massages
Water's Edge Signature Aromatherapy Massage
Hot Stone Massage
Classic Swedish Massage
Deep Tissue Massage
Mother-To-Be Massage
Couples Massage
Tandem Massage
Body Wraps
Water's Edge Signature Seaweed
Black Baltic Mud
Rose Clay
Body Polishes
Water's Edge Signature Sea Salt and Lavender
Sea Salt and Citrus
Coconut Island
Pom-Berry Scrub
Facials
Water's Edge Signature Dermophisiologique Anti-Ageing Treatment
Dermophisiologique Moisture Rich Facial Treatment
Vitamin C Brightening Facial
European Deep Cleansing Facial
Delicate Defense Facial
Gentleman's Refining Facial
Picture Perfect Teen Facial
Dermophisiologique Express Biolift Treatment
Express Facial
Purifying Back Facial
Facial Enhancements: Biolift Vitamin Rich Serum, Collagen Eye and Lip Treatment
Other Services
Manicure
Pedicure
Nail Enhancements
Wax Services
Spa Packages
Hours of Operation
Sunday to Thursday, 9:00 a.m. - 8:00 p.m.
Friday & Saturday, 9:00 a.m. - 9:00 p.m.