Zion Lodge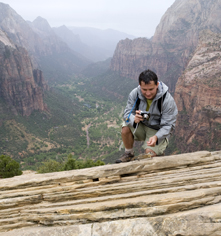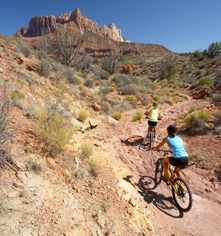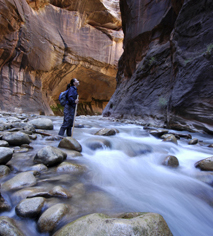 Local Attractions
The Zion-Mount Carmel Tunnel
A popular attraction within Zion National Park is the Zion-Mount Carmel Tunnel, which was built to create direct access from the park to Bryce Canyon and Grand Canyon National Parks. Construction of the 1.1 mile Zion-Mount Carmel Tunnel began in the late 1920s and was completed in 1930. At the time the tunnel was dedicated, on July 4, 1930, it was the longest tunnel of its type in the United States.
Zion also offers many trails, ranging from short leg stretchers to strenuous adventures. For an easy, scenic jaunt, try Pa'rus Trail - a paved, carefree alternative for bicyclists, pedestrians, and people with strollers and wheelchairs who want to visit the lower Zion Canyon.
Zion Canyon
A prominent feature of the 229-square-mile park is Zion Canyon, which spans 15 miles long and up to 1/2 mile deep, and was formed when the North Fork of the Virgin River cut through the reddish and tan-colored Navajo Sandstone. The lowest elevation is 3,666 ft. at Coalpits Wash and the highest elevation is 8,726 ft. at Horse Ranch Mountain. Located at the junction of the Colorado Plateau, Great Basin, and Mojave Desert regions, the park's unique geography and variety of life zones allow for unusual plant and animal diversity.
The Narrows
In the upper reaches of Zion Canyon sits a magnificent gorge called the Narrows that is 16 miles long and up to 2,000 feet deep. In some sections of the gorge, the width is as little as 20-30 feet wide. Hiking the Narrows is sure to be an unforgettable wilderness experience as hikers walk along the shadow of its soaring walls, sandstone grottos, natural springs, and hanging gardens. Entering the Narrows is safest when the Virgin River is low, clear, and relatively warm. Conditions change from day to day and are impossible to predict, so check with the Zion Lodge front desk for the latest weather information before setting out on an exploration.
For more information about Zion Lodge or to make reservations please visit zionlodge.com or call 1.888.29.PARKS (888.297.2757).