Belleview Inn
Belleair, Florida
Up to 20 Percent Savings plus $20 Dining Credit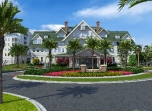 Up to 20 Percent Savings plus $20 Maise's Credit
Policies
1 night penalty for cancellation after 4PM, three days prior to arrival. 1 night penalty no-show.
One night room and tax is due at time of booking
Additional policies may apply. Please consult with hotel directly if policies are not addressed in this area of the system.
There are no special offers currently available.