Boone Tavern Hotel of Berea College
Berea, Kentucky
History Package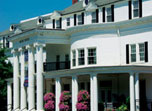 History rate includes room dinner for two, historic tour by a Berea College student, Boone Tavern club, free wifi, business center, Berea College shop, and award winning restaurant connected to shops and crafts.
Policies: Must be cancelled the day before by the booking agent that created it, otherwise one night w/tax will be billed. Credit Card Guarantee needed at time of booking. No Deposit required. Additional policies may apply. Please consult with hotel directly if policies are not addressed in this area of the system.
There are no special offers currently available.