El Convento Hotel
San Juan, Puerto Rico
Garden to Palate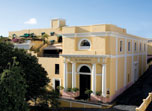 Experience our garden-to-table tour of the Mirador Herb Garden with Executive Chef Luis Castillo.
As you sip on Champagne (with refills!), Chef Castillo will walk you through the many herbs and spices he grows and utilizes in his locally focused menu including sage, basil, parsley, cilantro, lemongrass, opal basil, scallions and much more. Following the tour, enjoy a meal at our signature restaurant Patio del Nispero using items picked straight from the garden.
There are no special offers currently available.