Grand Hotel
Mackinac Island, Michigan
Bed and Breakfast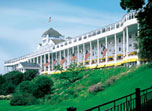 Nightly rate includes accommodations and full breakfast for up to 4.
Policies
Cxl 10d before arr for full refund min 45USD-After Dep not ref
A fee of 2 nights deposit required at time of booking
Additional policies may apply. Please consult with hotel directly if policies are not addressed in this area of the system.
There are no special offers currently available.