Grand Hotel
Mackinac Island, Michigan
Honeymoon/Anniversary Package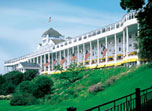 We take care of all the details showering you with flowers champagne a one hour carriage tour We take care of all the details, including showering you with flowers, champagne, a one hour private carriage ride, Afternoon Tea, and fine dining.
We have a 10 day cancellation policy. You may cancel up to 10 days prior to arrival with a penalty of 50USD
A 2 night deposit is required at the time of booking for a reservation of 2 or more nights. When booking 1 night only a 1 night deposit is taken. This deposit will be charged to the credit card provided at the time the reservation is made.
Additional policies may apply. Please consult with hotel directly if policies are not addressed in this area of the system.
There are no special offers currently available.