Grand Hotel
Mackinac Island, Michigan
Pure Michigan Package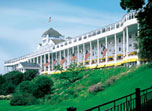 Enjoy all that Grand Hotel & Mackinac Island have to offer. Browse the award-winning wine list as you prepare to dine in Grand style. Take in the island's natural splendor by way of bicycle, horseback or horse-drawn carriage.
Package includes accommodations, full-breakfast and five-course dinner daily, plus gratuities.
Policies
We have a ten day cancellation policy. Your credit card will be charged for the first two nights of your stay unless you are only staying one night. You have up to 10 days prior to your arrival date to cancel and receive this amount back minus a $45 cancel. A fee of 2 nights deposit required at time of booking. Deposit is refundable 11 or more days prior to arrival. Cancellations within 10 days of arrival are not refundable. Additional policies may apply.
There are no special offers currently available.