Green Park Inn
Blowing Rock, North Carolina
Couple's Package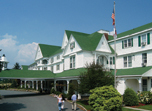 Couples Package includes room, couples massage, and complimentary bottle of wine
Couples package includes room, couples massage, complimentary bottle of wine, comp breakfast, comp WiFi, Keurig coffee maker, filtered water, plush towels, supple pillows, comfy robes, private baths, nightly turndown service. Please contact hotel directly at 828-414-9230 to confirm massage appointment.
Policies
72 hour cancellation policy. Reservation must be guaranteed with credit card no deposit required. Additional policies may apply. Please consult with hotel directly if policies are not addressed in this area of the system.
There are no special offers currently available.