Historic Hotel Bethlehem
Bethlehem, Pennsylvania
Pet-Friendly Policy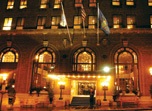 Contact the hotel directly to confirm a pet-friendly room.
Amenities: Beds of all sizes, Bowls, Pet room service.
Services: There is a path for walking dogs along the hotel that offers grassy areas, all within a short walk of the hotel.
Restrictions: Maximum weight: None. Maximum amount 1 pet per room.
Fees: $75 one-time deep cleaning fee.
There are no special offers currently available.