Hotel Boulderado
Boulder, Colorado
Pet-Friendly Policy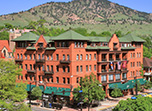 Plush dog bed, food and water bowls, complimentary treats and special offers from local "I and love and you" natural pet food company. Contact the hotel directly to confirm a pet-friendly room.
Pet Policy:
Service animals allowed: Yes.
Pets allowed: Yes. Dogs Only.
Amenities: Bed, Food, Bowls included in package.
Services: Dog-Friendly Package.
Fee: $45
There are no special offers currently available.