Hotel Whitcomb
San Francisco, California
Rack Rate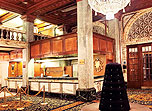 Policies
A cancellation fee of $50.00 will be applied to credit card for late cancellation after 4pm.
All reservations must be guaranteed with a valid credit card at the time of booking
Additional policies may apply. Please consult with hotel directly if policies are not addressed in this area of the system.
There are no special offers currently available.