La Valencia Hotel
La Jolla/San Diego, California
Preferred Advance Purchase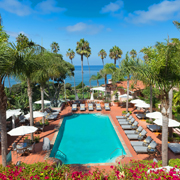 Receive 20% off best available rate when you book accommodations at least 14 days in advance. Accommodations must be fully prepaid and are non-refundable.
Policies
Reservation is non-refundable upon booking - cannot be cancelled or changed without charge. Full stay charge may apply.
Credit Card Deposit Required - full stay - tax included
There are no special offers currently available.