Ledges Hotel
Hawley, Pennsylvania
Pet-Friendly Policy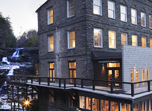 Contact the hotel directly to confirm a pet-friendly room.
Services: Max's Wagaway.
Restrictions: Maximum weight: 50 lbs (recommended).
Fees: $155 per night plus tax and service (additional charge for additional pets).
Other: Must be preapproved. Longer than two night stays must be booked through hotel.
There are no special offers currently available.