Mast Farm Inn
Banner Elk, North Carolina
North Carolina Moonshine by North Carolina Moonlight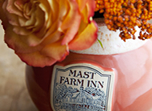 North Carolina Moonshine by North Carolina Moonlight, 3 Days & 2 Nights, Discover North Carolina Moonshine & Its History, Tour a Moonshine Distillery or The Nascar Museum.
Policies Deposit refund -35.00 if notified +15 days before check-in. Cancellations -15 days billed for total amount reservation. Deposit by Credit Card for One Night, Plus Tax, at Time of Booking Additional policies may apply. Please consult with hotel directly if policies are not addressed in this area of the system.
There are no special offers currently available.