Ojai Valley Inn
Ojai, California
Taste of Ojai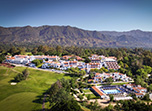 Showcasing Ojai's locally grown produce, enjoy our culinary creations in a lovely setting.
This Package Includes:
Overnight Accommodations
Dinner for Two at The Oak, our Full Service Restaurant
Rate Does Not Include Occupancy Tax, Tourism Tax or Nightly Resort Charge
Policies
Cancellation within 72 hours will be charged one night's room rate.
Credit card deposit equal to one night's room charge required at time of booking.
There are no special offers currently available.