Omni Shoreham Hotel, Washington DC
Washington, District of Columbia
Pet-Friendly Policy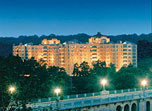 Contact the hotel directly to confirm a pet-friendly room.
Restrictions: Dogs and Cats Only. Maximum weight: 25lbs. Maximum amount: 1 pet per room (more if preapproved).
Fees: $50 (non-refundable cleaning per stay per room).
Other: Extreme or wild animals are not authorized.
Service animals for blind or otherwise disabled are exempt from fee and weight limit.
There are no special offers currently available.