The Pfister Hotel
Milwaukee, Wisconsin
Preferred Suites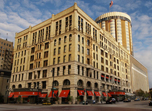 Enjoy 30% off best available rates for suite room types. Minimum 2 night stay required.
Policies
Cancellations Guest room reservations can be canceled without penalty until 3pm the day prior to your scheduled arrival.
All reservations must be guaranteed with a credit card
There are no special offers currently available.