The Sagamore
Bolton Landing, New York
Pet-Friendly Policy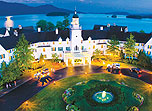 Contact the hotel directly to confirm a pet-friendly room.
Restrictions: Dog-Friendly. Maximum amount: 2 dogs per room.
Fees: $75 per night, per dog.
Certified service dogs that provide assistance to individuals with disabilities are welcome at the hotel and are not subject to the policies and restrictions.
There are no special offers currently available.