The Strater Hotel
Durango, Colorado
Blog Serenity Spa and Strater Hotel Package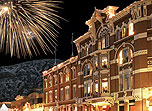 Relax in the heart of the San Juan Mountains with this beautiful vacation package by Serenity Spa and the historic Strater Hotel.
With this package you will stay at the Strater Hotel in one of our elegant Victorian guestrooms and be able to be treated to a 60-minute massage or facial at Serenity Spa in Durango, Colorado. Each night you stay with us you will also be able to get up the next morning and easily dine in our Mahogany Grille for breakfast.
A reservation specialist will be in touch to confirm what spa service is available.
Additional spa services may be added for an additional fee
MAKE A RESERVATION
INCLUDES
$15 Off Nightly Rate
One 60 minute Massage or Facial
Breakfast per Person
There are no special offers currently available.