The Willard InterContinental, Washington DC
Washington, District of Columbia
Special Offer/Advance Purchase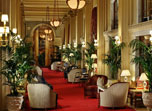 Take advantage of this special offer with additional savings now. A one night non-refundable deposit is due at the time of booking.
TERMS & CONDITIONS
Must book at least 3 days in advance. Must book no more than 89 days in advance. A deposit for the first night is due at time of booking. Credit card will be charged between the time of booking and day of arrival. Canceling reservation or failing to arrive will result in forfeiture of your deposit. Taxes may apply. Failing to call or show before check-out time after the first night of a reservation will result in cancellation of the remainder of your reservation.
There are no special offers currently available.