1886 Crescent Hotel & Spa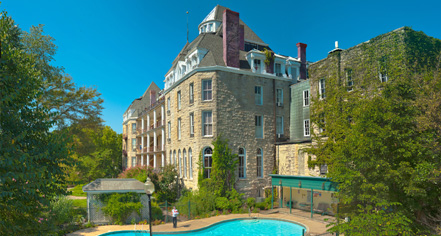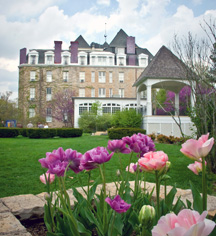 Overview
Perched above the Victorian village of Eureka Springs, Arkansas—recognized by the National Trust for Historic Preservation as one of America's Dozen Distinctive Destinations—is the 1886 Crescent Hotel & Spa, a palatial structure and landmark hotel that echoes the recuperative splendor of the surrounding Ozark Mountain region. The cultural hotel in the Ozarks features 15 on-site acres of gardens and nature trails—ample evidence that Arkansas' nickname, The Natural State, is no misnomer. Located in the historic district with more than 100 restored Victorian shops, restaurants and galleries, the Victorian hotel seamlessly retains its 19th-century character, from the Crystal Dining Room to the elegantly furnished guest rooms, without sacrificing a single full-service amenity. The Ozark Mountains premier spa, The New Moon, boasts spa, salon and wellness treatments while the hotel host numerous meetings and wedding events. The New Moon Spa, the recently rebuilt conservatory the addition of luxury suites in the previously vacant stone annex reinforce the modern identity of this century-old, romantic hotel in Eureka Springs.

Frequent paranormal sightings rank the hotel as one of the most haunted hotels in the U.S.

Original Property Opened: 1886

Contact Information:
Street Address:
75 Prospect Avenue
Eureka Springs, AR 72632
Historic Hotels of America toll-free reservations number (800) 678-8946.
The Gilded Age, 1866 ~ 1895
Perched above the Victorian village of Eureka Springs, Arkansas—recognized by the National Trust for Historic Preservation as one of America's Dozen Distinctive Destinations—is the 1886 Crescent Hotel & Spa, a palatial structure and landmark hotel that echoes the recuperative splendor of the surrounding Ozark Mountain region.
Learn more about the History of 1886 Crescent Hotel & Spa.