Admiral Fell Inn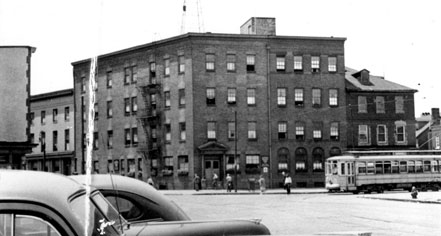 History
Historic Fell's Point is Baltimore's original deep-water seaport. The neighborhood takes its name from the Fell family, early settlers who emigrated from Lancaster, England. Hence the neighborhood's quaint British street names such as Thames, Lancaster, Shakespeare, and Fleet.
In the 18th and 19th centuries, shipyards dotted the waterfront neighborhood. Full-rigged ships carried Maryland grain and tobacco to the West Indies and Europe, returning with exotic imports. Throughout its history, Fell's Point has been a port of entry and a home for immigrants arriving on ships from Europe, Eastern Europe, and Scandinavia. Although it was incorporated into Baltimore Town in 1773, Fell's Point has always maintained its unique character and independence.
By 1900, the bustling port of Fell's Point was a rough waterfront neighborhood filled with warehouses, saloons, and brothels. The central building of what is now the landmark Admiral Fell Inn was opened on December 3, 1900. The property, then known as The Anchorage, was built by the Port Mission Women's Auxiliary as a place "to maintain under Christian influence a boarding house for seamen, a home away from home, a social and recreational center where the seafarer might find a safe refuge while in port." Guests had to be deloused in order to stay. That was still preferable being shanghaied; the building was a safe haven for merchant seamen who were grateful to stay in one of the inn's 28 rooms.
The Port Mission encouraged seamen to join a church and stay in the safe boarding house, which first started in a smaller location and then moved to the corner of South Broadway and Thames Street to accommodate more sailors. As more space was needed, the buildings beside The Anchorage were connected to it. Continuing in this tradition, the YMCA ran the facility as a Seamen's Branch from 1929 to 1955. After that followed a series of tenants and periods of vacancy during which time the buildings fell into disrepair. The most recent tenant, a vinegar factory, closed in the mid-1970s.
In 1985, after a total renovation, the original Anchorage buildings were reopened as the Admiral Fell Inn, a bed-and-breakfast with 38 rooms. In 1996, the waterfront inn finished an expansion into adjoining buildings for a total of 80 rooms and a new rooftop meeting and banquet facility. The inn's respect for the building's original architecture, historic integrity, and ambience earned its charter membership with the National Trust for Historic Preservation's Historic Hotels of America program. Today, Federal period furnishings in the bedchambers and throughout the Maryland hotel's public areas reflect Fell's Point's past. Each sleeping room is unique in shape and design and is named for an individual who contributed to Baltimore's rich history.

Admiral Fell Inn, a charter member of Historic Hotels of America since 1989, dates back to 1770.
*****

Guest Historian Series
Read more about the history of Admiral Fell Inn, as told by Historic Hotels of America 2014 and 2015 Historian of the Year Stanley Turkel. Excerpt is taken from his latest book Built to Last: 100+ Year-Old Hotels East of the Mississippi (AuthorHouse 2013).