Basin Harbor Club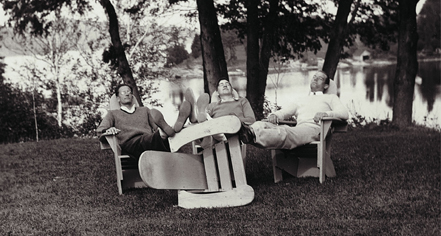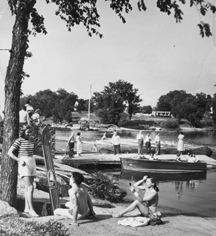 History
Up to the time when Samuel de Champlain followed a band of Algonquin Indians to what is now Lake Champlain, this area was uninhabited except by Native Americans. Arrowheads, stone axes and other artifacts can still be found on the banks of many streams flowing into the lake.

Following the War of Independence, soldiers who rendered military service were granted large plots of land in the area as partial pay. Platt Rogers bought ten acres from a few new landowners on the north point of Basin Harbor in 1790 and started to build the first permanent residence at Basin Harbor. The shipyard Rogers set up (commemorated by the stone marker at the waterfront) produced several of the boats that were later used by the federal government on Lake Champlain during the War of 1812. An early sail ferry to New York was also constructed here. With Rogers's passing, the landmark property in Vermont was divided up, and his daughter and her husband continued to operate an inn, just as Platt Rogers had before them. As the War of 1812 drew to a close, regular steamboat service on Lake Champlain brought about changes at Basin Harbor. In 1823, the Champlain Canal opened to connect Lake Champlain with the Hudson River, creating new opportunities for trade on the lake.

In 1882, Ardelia Beach purchased the inn and surrounding property and took the first step in transforming the historic lodge into its modern incarnation. Since then her family has guided the Basin Harbor Inn through the tumultuous history of the 20th century. During the Great Depression, Basin Harbor achieved the impossible: continued expansion, and during the war years, the property served as a much-needed retreat for the war weary. After World War II, a pent-up impulse for travel exploded across the country and historic Basin Harbor Inn hit its stride, improving the property in leaps and bounds while still holding onto the characteristics that drew Ardelia Beach to the landmark property more than 100 years ago: the scenic beauty and a quiet embrace of luxurious calm.

Basin Harbor Club, a member of Historic Hotels of America since 1999, dates back to 1886.
*****
Guest Historian Series
Read more about the history of Basin Harbor Club, as told by Historic Hotels of America 2014 and 2015 Historian of the Year Stanley Turkel. Excerpt is taken from his latest book Built to Last: 100+ Year-Old Hotels East of the Mississippi (AuthorHouse 2013).