Basin Harbor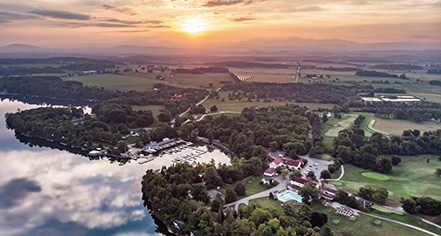 2018 Awards of Excellence Winner
Legendary Family Historic Hoteliers of the Year Award
This award is presented to a multi-generational family ownership entity or management company which has served as an exemplary role model in the operation of the historic hotel entrusted to its stewardship, as well as demonstrated a legacy of commitment to preservation and has been an active champion for Historic Hotels of America.


The Beach Family: Pennie Beach, Sarah Morris, and Bob Beach, Jr., Basin Harbor (1886) Vergennes, Vermont
The Beach family has been welcoming visitors since 1886 when Great Aunt Ardelia bought a farm and created a Lodge to board "city folk" for the summer. Her farmhouse creation in 1886 evolved into a 700-acre resort including: a golf course, pristine gardens, and 77 distinct cottages and 47 guest rooms, many with views of the Adirondack Mountains and Lake Champlain, the sixth largest lake in America. Basin Harbor Resort, inducted into Historic Hotels of America in 1999, has been voted every year since 2014 as One of the Best Places to Work in Vermont. It is the first heritage accommodation and first golf course in Vermont to be designated as a Certified Audubon Cooperative Sanctuary. Today, siblings Pennie and Bob Beach, Jr. are the Fourth Generation Hosts to greet guests (and their four-legged family members) along with Fifth Generation Host, Sarah Morris. The traditions of historic Basin Harbor Resort & Boat Club perfected by the Beach Family for five generations continue for present and future guests: Active Tranquility. Time to play. Time to be still. Time to celebrate the good things in life.