Bear Mountain Inn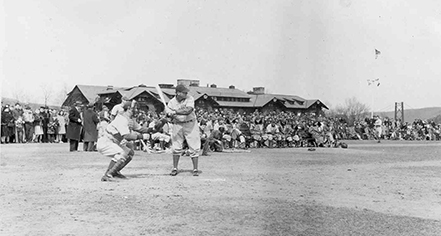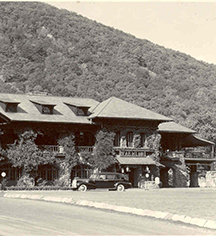 History
Situated at the base of Bear Mountain and overlooking the shores of Hessian Lake, the historic Bear Mountain Inn, built in 1915, is the centerpiece of a unique park system that stretches from the edge of New York City through the Hudson Valley. As one of the earliest rustic-style lodges built to take advantage of a natural setting, Bear Mountain Inn and Overlook Lodge is a fabulous contemporary of the great National Park lodges.
Bear Mountain State Park was born out of the conservation efforts of the Harriman Family in 1908, before ecological conservation was the popular movement it is today. What was soon to be the future site of Sing Sing Prison eventually became the hallowed grounds of The Bear Mountain Inn thanks to the Harriman's and the youthful Palisades Interstate Park Commission. While development of the prison had begun in 1908, Mr. Edward Henry Harriman chose to donate thousands of acres of his family's land (to eventually become Harriman State Park), along with $1 million to the PIPC on the condition that the State of New York stop work on the prison and make Bear Mountain into a park. By 1910, the base of Bear Mountain was bustling with activity to create a State Park.
When it was opened in 1915, The American Architect declared the Bear Mountain Inn to be one of the "finest examples of rustic Adirondack architecture in America." The building, described as 'a rugged heap of boulders and huge chestnut logs assembled at the base of Bear Mountain by the hand of man and yet following lines of such natural proportions as to resemble the eternal hills themselves,' was formally dedicated on June 1, 1915.
Since its first year of operation, Bear Mountain Inn has been the centerpiece of the Palisades Interstate Park Commission. It was originally constructed as an open-air pavilion to facilitate food service. By winter 1923 the great stone arches of the Inn (still visible today) were retrofitted with windows and enclosed to make the Inn a year-round attraction.
The Inn recently underwent extensive renovations to restore the building to its orignal rustic splendor and secure its proud place in the National Register of Historic Places and the New York State Register of Historic Places. The renovations took about 7 tedious years and tireless care to uphold the historic nuances of the facility.

Bear Mountain Inn, a member of Historic Hotels of America since 2016, dates back to 1915.