Boston Park Plaza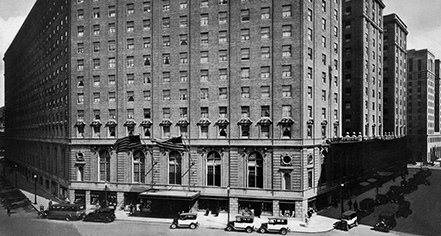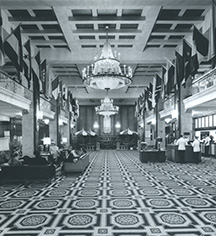 History
The Boston Park Plaza hotel, located in Boston's historic and vibrant Back Bay, was founded by E.M. Statler, self-made millionaire and father of the modern hotel industry. E.M. Statler lived by a few mottos that probably boosted the distinction of his hotels: "Life is service – the one who progresses is the one who gives his fellow men a little more – a little better service," and "There are three things that make a hotel famous – location, location, location."
The Back Bay location of E.M. Statler's Boston Park Plaza Hotel is teeming with lots of one-of-a-kind shops, hip restaurants, and vintage homes along Newbury Street, Boylston Street, and Commonwealth Avenue. While sometimes celebrities can be spotted here, the Back Bay is truly the place to be seen for both Boston residents and visitors alike. Nowadays, two tallest members of the Boston skyline can be seen from the Back Bay; the Prudential Center and the John Hancock Tower. Not only that, but other architectural and historical treasures such as Trinty Church and the Boston Public Library are nearby.
When this landmark Boston hotel was under construction in 1925, the 155 ft, 14 story building was 125 ft over the Massachusetts State Building code. However, this oversight was not caught until the final weeks of construction and then-Mayor James Curley approved the variance and the Boston Park Plaza hotel became the tallest building in Boston by 30 ft, the largest independent hotel in New England for fifty years, and the 8th largest hotel in the world.
The historic Statler Hotel, as it was called at the time, opened on March 10, 1927 with 1,300 rooms and private baths for all. The 57,651 sq ft of land The Boston Park Plaza Hotel sits on, was purchased for $45,000 and upon opening, 60% of the guest rooms and suites were priced between $3.50 and $5.00 per night. The total cost of this project ended up being $14 million after craftsmen used approximately 5 million bricks, 2 acres of window glass, 10 acres of carpet, 7,000 doors, 200 miles of molding, and 16 million pounds of steel.
E.M. Statler was a pioneer in offering his traveling guests comfort, luxury, and all kinds of new and modern conveniences at an affordable price. The Boston Park Plaza was the first to feature radios for no additional charge in each of the guestrooms. Statler was so pleased with the result, he made this the standard in all of his hotels, totaling 7,700 radios in his hotel empire.
Suddenly, in 1976, the Statler Hotel announced, with no warning, it was going to close. After two weeks, the Irving M. Saunders family purchased the hotel and changed the name from the Statler Hotel to the Boston Park Plaza hotel. Today, Boston Park Plaza remains the choice destination for Boston visitors and luminaries alike, boasting luxury accommodations, unparalleled hospitality, and a rich, historic setting.
Many of Ellsworth Milton (E.M.) Statler's hotels are still in operation, including two Historic Hotels of America: Omni William Penn Hotel and Capital Hilton.
Fun Fact: Waldorf and Statler, the cranky men in the balcony on the Muppet Show, are named after famous New York City Hoteliers; Statler being one of them.

Boston Park Plaza, a member of Historic Hotels of America since 1994, dates back to 1927.