Bright Angel Lodge & Cabins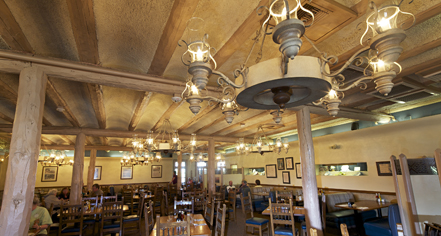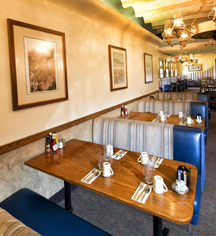 Dining
Arizona Room offers a family friendly, upscale dining experience. The restaurant is open for lunch (seasonally) and dinner. The menu is a blend of Southwestern and BBQ themes, with choices to fit every taste and budget. Service is first-come first-served, with full bar service available.
Bright Angel Restaurant is a 200-seat dining facility which provides full service dining in a relaxed and comfortable setting. A diverse menu appeals to a variety of dining preferences. Many traditional entrées are offered. Seating is available on a first-come, first-served basis.
Bright Angel Fountain is an espresso/ice cream bar that offers wrapped sandwiches, hot dogs, pastries, fresh fruit, and a variety of beverages. All items are served to-go.
Bright Angel Bar is located near the top of the Bright Angel Trail. The room is filled with historic murals depicting canyon scenes. Appetizers, cocktails, and non-alcoholic beverages are available.
For more information about Bright Angel Lodge & Cabins or to make reservations please visit grandcanyonlodges.com/bright-angel or call 1.888.29.PARKS (888.297.2757).