Claremont Club & Spa, A Fairmont Hotel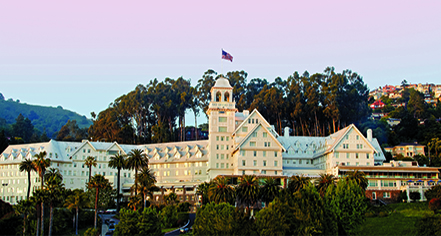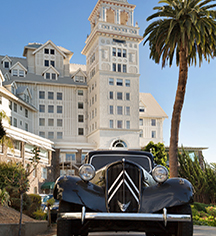 History
During the early beginnings of the Gold Rush, a Kansas farmer by the name of Bill Thornburg struck it rich. He brought his wife and daughter along to California. They both dreamed of living in an English castle and as a result, Thornburg purchased 13,000 acres to grant the women in his life their wish. He built this castle along with several stables, which housed pedigreed hunters and jumpers. He also raised English foxes for hunting parties.
Eventually, Thornburg's daughter married and moved away to England with her husband, a British Lord, and shortly after Mrs. Thornburg passed away. Left alone with his castle, Bill Thornburg sold it to the Ballard family. Tragedy continued to befall the castle when it burned to the ground on July 14, 1901 as fire tore through the Berkeley Hills area, destroying other homes in the area. The Ballard livery stables, barn, and a few of the more expensive furnishings survived the fire.
During a high-stakes checkers game, played in Oakland's Old Athenian Club, Frank Havens "won" ownership of the property and began rebuilding in 1905 along with the Claremont Hotel Company. However, construction was held up first by the earthquake of 1906 and then subsequently, the Panic of 1907. In 1908, additional land was purchased, which the Claremont Club & Spa now sits upon, and in 1915, the hotel officially opened for business.

Claremont Club & Spa, a member of Historic Hotels of America since 2016, dates back to 1915.