Colony Hotel & Cabana Club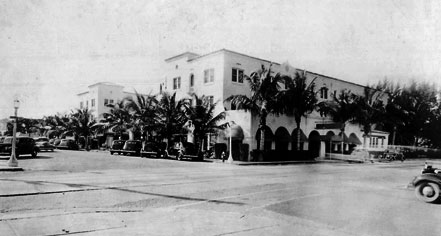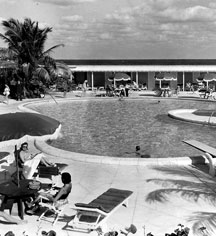 History
Martin Luther Hampton, an associate of Addison Mizner, designed and built The Colony Hotel in 1926. The interior of the romantic hotel includes the 1926 staff operated elevator and the original telephone switchboard. The lobby has the complete set of more than 50 pieces of Fixx Reed wicker furniture and is lit by the six original wood skylights. The lobby terrazzo floors, the red oak in the music and dining rooms and the Cuban 1926 tile floor on the porch are still intact. Last year, the Colony Hotel & Cabana Club restored and reinstalled the carved fireplace mantle as the centerpiece of the hotel lobby. The mantle had been stored in the attic of the sister Colony Hotel in Kennebunkport, Maine for more than 50 years. It again is united with the original black wrought iron lobby chandeliers which were restored in the lobby ten years ago after they too had been stored in the Kennebunkport attic.

Today the Colony is one of the most important historic landmarks in Delray Beach. The Mediterranean Revival architecture is a model in the Delray Beach Downtown Master Plan for new development. Its location on Atlantic Avenue in the heart of Delray Beach has allowed the Colony to witness the evolution of this Village by the Sea from its humble beginnings to its present day resort status and two-time All-American City.

Colony Hotel & Cabana Club, a member of Historic Hotels of America since 1999, dates back to 1926.