The Don CeSar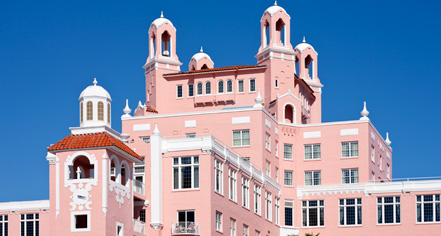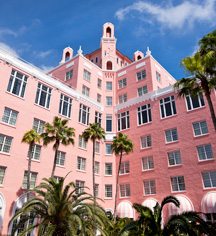 History
Thomas Rowe migrated to Florida and purchased 80 acres of what is now St. Petersburg Beach in 1924. A year later, construction began on his dream project: the "Pink Palace." The historic Don CeSar, named for the chivalrous Don Ce-Sar in Vincent Wallace's light opera Maritana, opened in 1928, nearly 300% over budget, and instantly attracted some of the era's biggest stars, from F. Scott Fitzgerald and FDR to Al Capone.

The New York Yankees signed a three-year spring training contract in 1931, helping the Don through the Great Depression. In 1942, two years after Rowe's untimely death, the U.S. Army seized the hotel and used it as a hospital throughout the duration of World War II and in 1944, the Don entered its "golden age" as an Air Force convalescent center. One year later, the luxurious hotel interiors were stripped bare and painted "government green" as the Don endured its next incarnation as the regional office for the Veteran's Administration.

By 1969, the historic building in St. Pete Beach had severely deteriorated. The last of the federal offices abandoned the property and it remained derelict until the early 1970s, when William Bowman, Jr., purchased it for $460,000. The Don CeSar hotel reopened in 1973 (the name now sans the hyphen) after a $7.5-million restoration. Once again the Pink Palace reigned on the Florida coast. In 2009, a million dollar meeting space renovation was completed. In 2011, the signature restaurant, Maritana Grille, Lobby, Lobby Bar, and Sea Porch Restaurant were reconcepted and revitalized. In addition, in 2012, a multi-million dollar guestroom renovation was completed, and most recently in 2018, a complete renovation of all guest corridors, ballrooms, and meeting space, including the entire fifth-floor and courtyard.

The Don CeSar, a charter member of Historic Hotels of America since 1989, dates back to 1928.